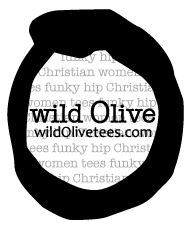 I love Wild Olive Tees. I especially like the new ones just out. I have added their button to my blog, but of course I don't know if I have added it in the correct place. I need a blogger for dummies book or something...I am still learning this whole thing. I have facebook figured out...now if I could just get this blog thing figured out. LOL
Karlie is wearing the "shine" tee shirt and I am wearing the "Beloved" tee shirt...I could sure use some more of their shirts...I need a wardrobe intervention....and I know I could look cute and witness at the same time in their designs...
Hey! and I finally figured out how to add the Wild Olive button to my sidebar...I might master this blog thing after all...